The Global Gift Gala Marbella is consecrated as the most important philanthropic event on the Costa del Sol
Maria Bravo was once more the Host of the Philanthropic Weekend in Marbella with Honorary Chair Eva Longoria Bastón for the sixth consecutive year with more than 250 guests, national and international celebrities all united by solidarity.
The traditional gala, framed within the 6th Global Gift Philanthropic Weekend, raised funds for the Querer Foundation, the Eva Longoria Foundation and the Global Gift Foundation
Actors Amaury Nolasco and Lorena Bernal were in charge of presenting the evening that featured performances by Rafael Amargo, Descemer Bueno, Steve Edwards and Tony Mendes
Brothers Torres and Rodrigo de la Calle with Head Chef Victor Carracedo and Jean-Philippe Darcis signed the menu of the gala
Pilar García de la Granja, Nuria Fergó, Olivia de Borbón, Ana Obregón, Beatriz de Orleans and Vogue Williams, Spencer Matthews (brother-in-law of Pippa Middelton), were among other personalities who supported this great charity event that took place at the Gran Melia Don Pepe Resort
The Global Gift awards went to Fundación Querer and the NGO Aprendices Visuales, in addition to a surprise award to Ricardo Álvarez-Ossorio, a philanthropist who has supported the foundation for years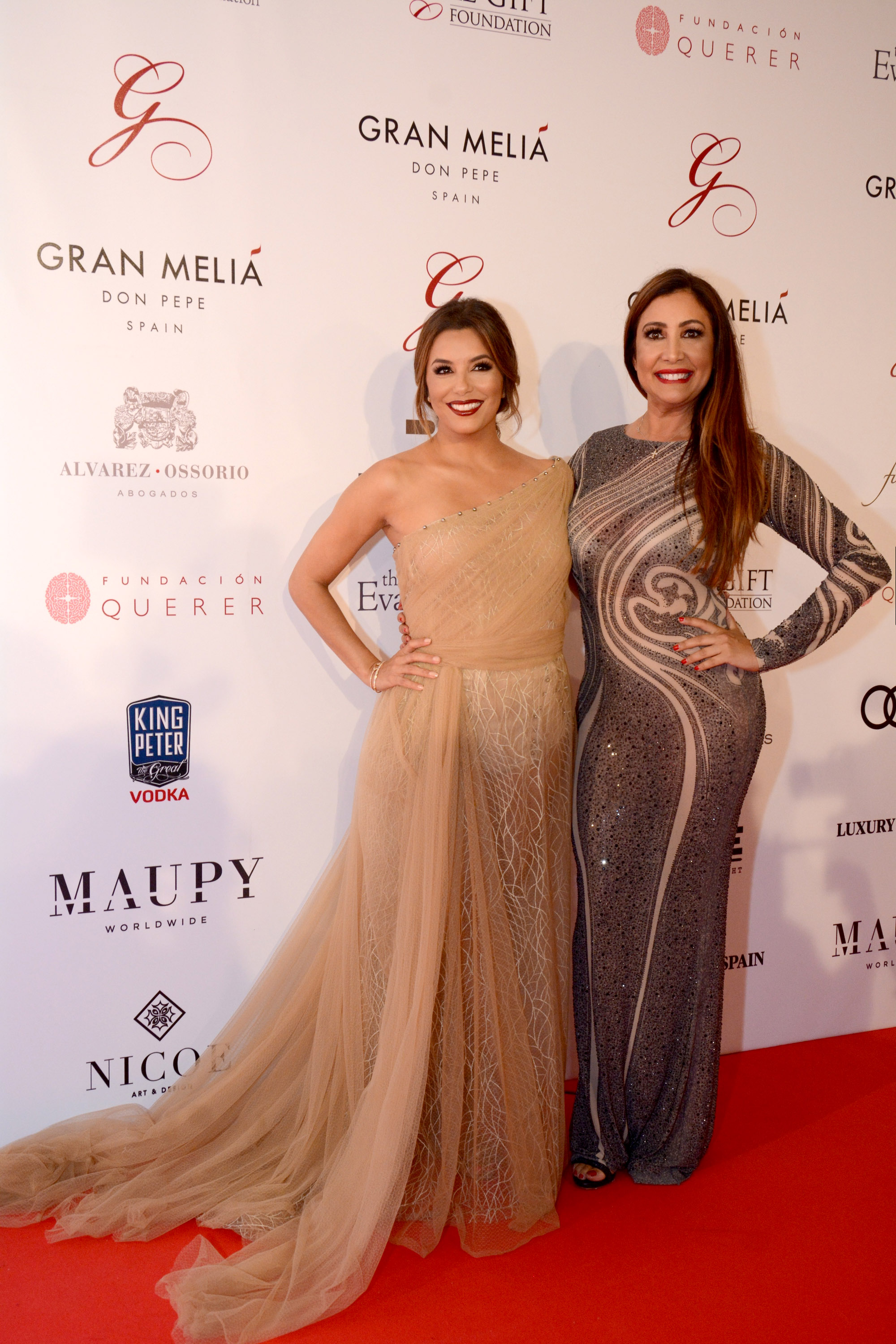 Marbella, July 17, 2016. The Global Gift Foundation last night celebrated the 6th edition of The Global Gift Gala Marbella, establishing itself as the most important philanthropic event on the Costa del Sol. Once again, the Gran Meliá Don Pepe Resort hosted this evening where the founder and president of the Global Gift Foundation, Maria Bravo, received Honorary Chair Eva Longoria Bastón, with celebrities, Global Gifters and members of the international philanthropic community with the objective of raising funds for social causes that improve the lives of children, women and families.
"Being in my city surrounded by so many friends and personalities committed to solidarity is a dream fulfilled and fills me with strength to continue working through the Global Gift Foundation to try to create a better world," said María Bravo, alma mater of the foundation.
Important personalities from the world of culture, business, journalism, sports and philanthropy such as Pilar Garcia de la Granja, Nuria Fergó, Olivia de Borbón, Beatriz de Orleans, Julián Porras or Ana Obregón, and international figures such as Enric Ortiz, Melissa Hotels Regional Vice President, Spencer Matthews, Pippa Middleton's brother-in-law, Vogue Williams, singers Lisa Scott Lee, Melissa Nkonda, Camila Kerslake and Johnny Shentall Lee; Presenters Laura Hamilton and Nick Ede, British rugby player Chris Robshaw, and American designer Melissa Odabash, showed their support by attending this event, which was part of the 6th Philanthropic Global Gift Weekend.
The VI Global Gift Gala Marbella was compered by Amaury Nolasco, known for his role in Prison Break, and actress and model Lorena Bernal, who gave way to the awards ceremony, the auction and musical performances by Rafael Amargo, Descemer Bueno, Steve Edwards and DJ Tony Mendes.
The evening began with the tasting of a menu prepared by prestigious chefs: Rodrigo de la Calle, creator of Gastrobotánica with a Michelin star for his restaurant in El Invernadero in Madrid, and brothers Torres, Sergio and Javier, presenters of the television show "Torres In La Cocina "TVE, who also have a Michelin Star restaurant, Dos Cielos in Barcelona, and have just opened another restaurant under the same name in Madrid. In addition, they were accompanied by head chef of the Gran Meliá Don Pepe and committed Global Gifter, Victor Carracedo, and by Jean-Philippe Darcis, who once again contributed as pastry chef.
"For years I have been following the gala every summer and I have always wanted to participate, because of its philanthropic nature. I think there is nothing more beautiful than helping others and this can be one of the grains of sand that we give back as a thank you for all the good things that life has given us", said chef Rodrigo de la Calle. The Torres Brothers, said that "it is an honour to participate in an event that will help improve the quality of life of so many children through the projects of the foundation. We believe that we need to promote this kind of initiative, uniting us to make our world a much better place for all and especially for children".
The Gran Meliá Don Pepe Hotel was the setting once again chosen to host The Global Gift Gala Marbella. Rocío Galán, director of the hotel said "it is a pleasure to host the sixth Global Gift Gala with María Bravo and all her team as we consider this event as one of the most important events of the Costa del Sol. Our support is unconditional because we believe that the Global Gift Foundation is doing a great job in the city ".
Beneficiary Foundations
This year there have been three non-profit organizations that have benefited through donations collected during the events that have shaped the 6th Global Gift Philanthropic Weekend: the Querer Foundation, the Eva Longoria Foundation and the Global Gift Foundation.
Foundación Querer, led by the journalist Pilar García de la Granja, strives to raise awareness of the importance of childhood neurological diseases, focusing on a specialized education, individualized with educational methods developed to get these children to develop their full potential.
"Thanks to the Global Gift Foundation and the generous financial contribution of all its friends, our educational project is much closer. And that is a wonderful gift for so many children who will later benefit from the method and so many families we can help with genomic analysis, informational talks, respite support and scientific research projects. In addition to being able to announce our dream of opening the first special education school for children with language disorders and learning ability", said its founder, Pilar Garcia de la Granja.
The funds raised for The Eva Longoria Foundation will serve to strengthen entrepreneurship and microcredit programs for Latina women in the United States. The Global Gift Foundation will fully strive to reform the Casa Global Gift, a multi-purpose center that will offer specialized help and material adapted for children suffering from rare diseases also supporting their family environment.
The Global Gift Foundation, through Maria Bravo and Eva Longoria Bastón, once again presented the Global Gift Awards that honour the social commitment of personalities and businesses with disadvantaged groups, and which in past editions have rewarded the solidarity of personalities such as David Beckham, Deepak Chopra, Maria Carey, Ricky Martin, Samantha Vallejo-Nájera or Vicente del Bosque.
"The Global Gift Our Heroes Award" went to Fundación Querer, also a beneficiary of the gala. The award was collected by Pilar who gave some examples of the ways some lives have improved with the help of their foundation. "The Global Gift Philanthropist Award" went to Aprendices Visuales, focused on improving the lives of children with autism through actions such as creating stories and interactive applications to learn basic skills of autonomy. Its founders, Miriam Reyes Oliva and Amélie Jézabel Mariage, who already have more than one million users around the world, explained the importance of continuing this work so that these children can identify their emotions, improve their social skills and start to read. "That the Global Gift Foundation recognizes our work is something enormous, an impulse that we do not know how to describe. We are sure that the visibility it brings will help us to further sensitize society about autism and to push forward our future projects in favour of the youngest children. " This year, the Global Gift We Believe in People Award was handed over to Ricardo Alvarez, a philanthropist and creator of Ribek Producciones, for his unconditional support of the Global Gift Foundation since its inception.
The auction took place with guest auctioneer David Duran and featured unique lots such as an experience at the Dubai International Film Festival alongside Sarah Jessica Parker, reaching a bid of 50,000 euros, the possibility of accompanying Eva Longoria Bastón at the exclusive Global Gift Gala in London next November or a photograph of Marilyn Monroe taken by the film producer Lawrence Schiller, were among other pieces of exclusive jewellery and art.
A philanthropic weekend
The VI Philanthropic Weekend Global Gift Gala culminated with the Global Gift Gala, but started last Friday July 14th with a welcome dinner at Finca Besaya, followed by the III edition of the famous Global Gift Party, which took place on Saturday the 15th for the first time at Playa Padre Beach Club and served to welcome Global Gifters from all over the world to attend the VI Global Gift Gala. On July 19th the last event took place – a dinner show in the exclusive restaurant Theater.
In this new edition of the Philanthropic Weekend, the Global Gift Foundation has been supported by sponsors such as the Gran Meliá Don Pepe Hotel, Alvarez Ossorio y Castro, Ribek Producciones, Safamotor, Audi, Finca Besaya, Marbella Theater, Meliá Banus and Playa Padre; And with the collaboration of Cosme Palacio, Luxury Spain, Marbella Luxury Cars, Rives, Pablosky, Mahou San Miguel, Sixteen 10, Virginia Flores, Popi Hams, Marqués de Alcántara and Patricia Gómez Arquitectos.
The cosmetic clinic of Marbella Arques Clinic, in addition to sponsoring the gala, has launched the #GlobalSmiles campaign together with the Foundation led by Maria Bravo, to offer free therapies for one year to the children of Casa Global Gift.
About the Fundación Querer
The Querer Foundation was born with the objective of unifying Scientific Research, Research in Training and Education and the development of new Technologies placed at the service of the group of children who suffer TEL and their families, hoping to be able to develop to the maximum Their intellectual abilities and can be effectively integrated into a truly inclusive and non-discriminatory society. We want to support scientific research through #BrainOn on neurological diseases as serious as those derived from autism spectrum disorders, epilepsy, Landau Kleffner's syndrome, Asperger's syndrome, refractory epilepsy, aphasia, hyperactivity and deficit Of serious attention, the Language Disorder. All without cure.
About The Eva Longoria Foundation
The Eva Longoria Foundation is empowering Latina women through education and entrepreneurship. Latino women have extraordinary potential, but they lack educational opportunities as well as lack of financial means. The Eva Longoria Foundation helps Latina girls finish their studies so they can go to college, and give women the opportunity to go ahead for themselves by providing them with entrepreneurial training and by giving them capital for their business.
About Global Gift Foundation
Global Gift Foundation is a non-profit charity whose goal is to create positive changes in development, wellness, health care and social inclusion of the most vulnerable. The Foundation helps provide shelter, food, clothing, education, medical care and other vital needs to vulnerable groups, particularly children and women in need.
Created in 2013 by entrepreneur and philanthropist Maria Bravo, the foundation supports projects from different organizations around the world and has recently launched its own, Global Gift House, a multifunctional center for children with rare or chronic diseases that is located in the city Of Marbella and that will shelter at least 6 non-profit charitable organizations of the zone; Adisol (Association of Diabetics of the Costa del Sol), ADAHIMAR (Social Association of Attention Deficit Disorders and Hyperactivity), CADI (Center for Childhood Diversity Care), Association against Cystic Fibrosis, Bubble and Dreams Without diagnosis) and AMPEMNA (Association of Multiple Sclerosis Marbella / San Pedro / Estepona).
Asesores de Relaciones Públicas y Comunicación.
Patricia Martínez / Irina Moreno / Rubén Carromero
pmartinez@comunicacionrrpp.es
globalgift@comunicacionrrpp.es
Tel. 91 577 45 54 / 605 053 152 / 608 151 210