The 8th edition of The Global Gift Gala London raises funds for the Eva Longoria Foundation, Great Ormond Street Hospital Charity and Global Gift Foundation
Eva Longoria Bastón, Victoria Beckham, Ronan and Storm Keating, Maxwell, Robert and Jessica Pires and John Bradley among many others, accompanied Global Gift Foundation founder, María Bravo, in the eighth annual edition of the gala, that was held at the Corinthia Hotel in London.
The funds will go entirely to three charities: Eva Longoria Foundation, Great Ormond Street Hospital and Global Gift Foundation.
Actress Joan Collins and singer Maxwell were recognized with the Global Gift Philanthropist and Humanitarian Award respectively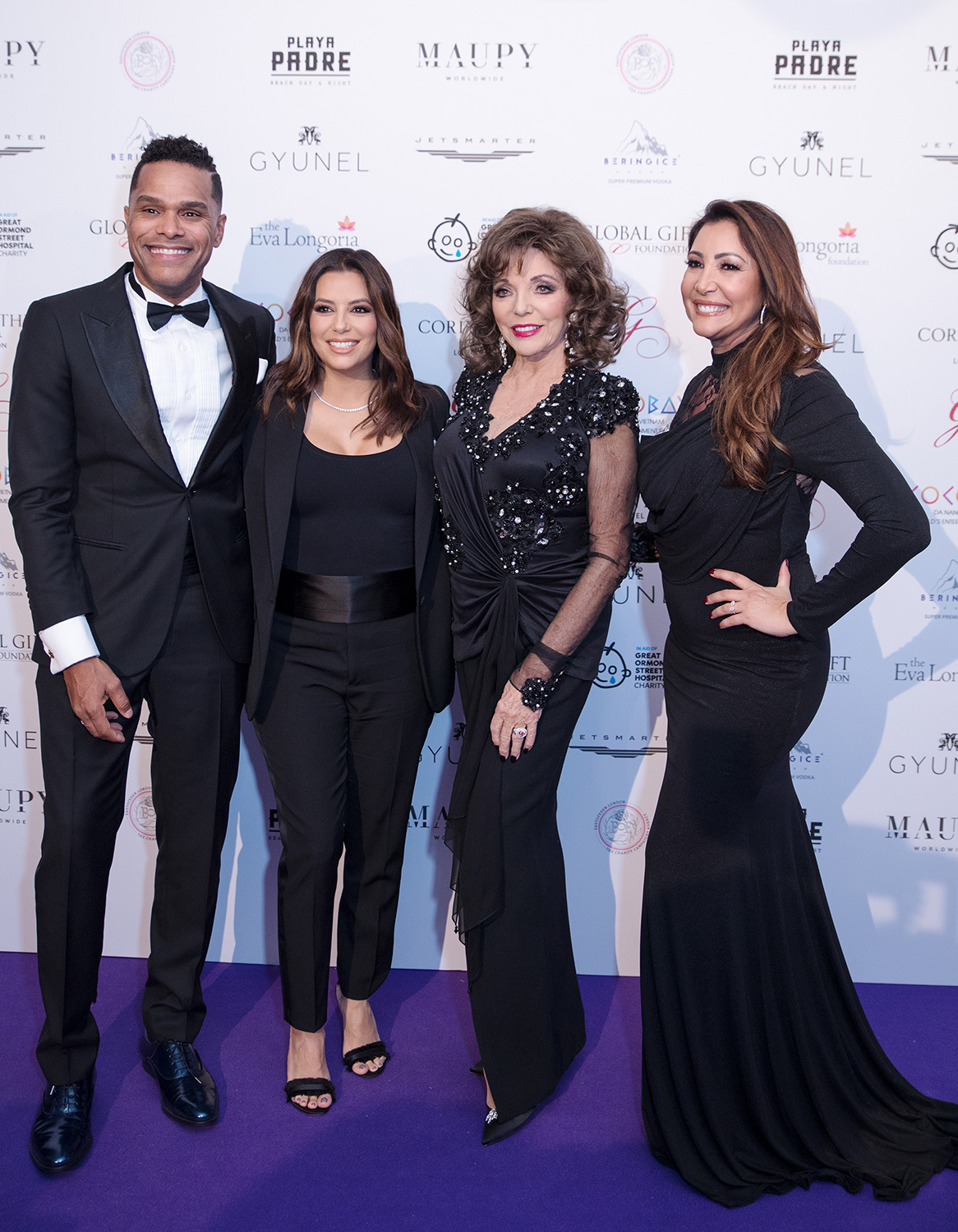 London, 21st November, 2017. The Global Gift Foundation celebrated the eighth annual edition of its most exclusive charity event in London, becoming the highest-grossing gala in the history of Global Gift. For the second consecutive year, Corinthia Hotel hosted what media called the "gala of the year!, presented by television icon Konnie Huq, and María Bravo and Eva Longoria Bastón as Chair & Honorary Chair of a magical evening that began with a welcome cocktail and red carpet wall covered by media from around the world.
Seia Lee and Steve Edwards lent their talent and voices to the cause by performing on the evening, as well as the prodigious pianist Tokio Myers (Britain´s Got Talent winner), former M People singer Heather Small and the official DJs of Global Gift Foundation, duo BitterSweet DJ´s – Ashley James and Charlotte de Carle. Spanish choreographer and flamenco dancer Rafael Amargo dazzled with a great show, sharing the stage with dancer Karen Ruimy.
Maria Bravo said: "I am thrilled and equally proud to have the chance to be here for the eighth consecutive year. The Global Gift Gala London is much more than a special and emotional solidary evening. The desire to benefit those women and children who need it most, is what drives us to be here today and to work every day to build a better, more just and supportive world. And, honestly, I cannot think of a more beautiful and rewarding motivation than that, "said Maria Bravo, founder of the Global Gift Foundation.
Eva Longoria Bastón, Honorary Chair and founder of one of the beneficiary foundations of the event, The Eva Longoria Foundation, said she was "grateful and happy to be able to collaborate once again with The Global Gift Gala, London. Being part of a philanthropic event where solidarity has no limits or borders, is truly comforting. María and I think it is essential to give visibility and support to the praiseworthy work of those who dedicate part of their lives to helping people in need. "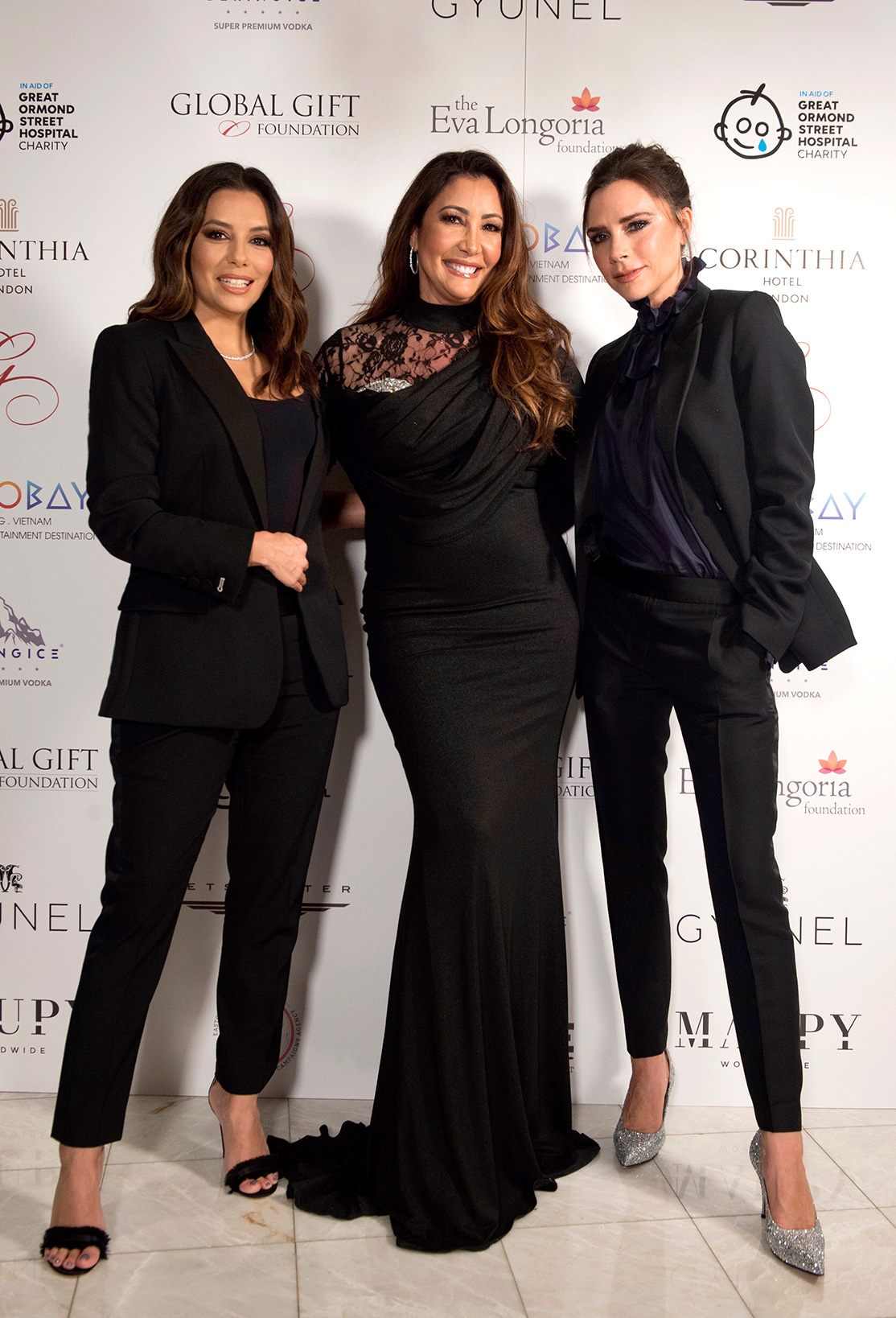 Three Beneficiaries
Like other years, the goal of the VIII Global Gift Gala London has been to raise funds for projects that aim to improve the lives of women, families and children around the world in need. This year, there are three organizations that will have the support of Global Gift to advance their charitable causes: Eva Longoria Foundation, Great Ormond Street Hospital and Global Gift Foundation.
Tarun Sundersingh, a patient of Great Ormond Street Hospital, who was born with multiple pterygium syndrome – a disease that causes muscle weakness and limited movement, in addition to severe pain – spoke on behalf of the hospital, describing his personal experience and thanking Great Ormond Street Hospital for the help he received.
The Eva Longoria Foundation will invest the funds in the empowerment of Latina girls and women through education and empowerment programs so that women and girls reach their full potential in life, according to Eva Longoria during her emotional speech: " This is a night for children and women. My foundation was created in the belief that every woman has the same rights as any man, the same opportunity to be the best she can be, to build a better future for themselves because they will build a better future for their family, because what happens when you help a woman in her community, is that she helps her family, and once you help families you are changing communities, and when you change communities, you transform nations. "
Likewise, the Global Gift Foundation will designate the funds raised to Casa Global Gift, a multifunctional centre that will offer specialized help and material adapted to children suffering from rare diseases whilst supporting their family environment. "True to our commitment to guarantee the welfare of the youngest, the funds raised today will go entirely to our project continuing to move forward with the adaptation of the Casa Global Gift in Marbella. With this commitment we will continue working to positively impact the lives of these children, women and families in need" said María Bravo.
Global Gift Awards
On a night filled with emotion, the actress and writer Dame Joan Collins was awarded the 'Global Gift Philanthropist Award', for her ongoing philanthropic work with several NGO´s throughout her life. With this award, Maria and Eva acknowledge her work in favour of neurological research, her role as patron of the International Foundation for Children with Learning Disabilities, her contribution to the Association of Breast Cancer Studies in Great Britain or as patrons for Fight for Sight, as well as patron of the British Children's Hospice Shooting Star Chase. "It is an honour to receive this award for my philanthropic work, something that I am passionate about and hope to continue doing for many more years to achieve small changes that make a difference in the world," said Collins.
The humanitarian work of R & B singer – winner of three Grammy awards and 13 Gold and Platinum certifications of the Recording Industry Association of America, Maxwell was also recognized by the Chairs of the night, Maria Bravo and Eva Longoria with the "Global Award Gift Humanitarian Award '. During the last years, the singer has shown on more than one occasion, to be worthy of this recognition, which rewards those who perform humanitarian work in natural disasters or wars. Maxwell, in addition to having collaborated and contributed to bringing drinking water to underdeveloped countries, humanitarian aid in Haiti after the 2010 earthquake, as well as intervening in an emergency plan to save lives and rebuilding the destroyed area in collaboration with the United Nations. He has also supported many charities over the years including Global Gift Foundation and Artists For Peace & Justice.
Guests supporting Global Gift Gala
Among the guests at the VIII Global Gift Gala in London were worldwide stars from music, fashion, sport and television industries such as Victoria Beckham, guest of honour one more year, her sister Louise Adams, Melissa Odabash, Christopher Biggins, John Bradley, Tamara Ecclestone, Craig McGinlay, Ronan Keating, as well as Karen Ruimy and Robert & Jessica Pires, members of the London Global Gift Foundation committee.
Thanks to the hashtag of the gala, #GGGLondon17, Internet users were able to follow the course of the evening on social networks.
Other #GlobalGifters present at the event were José Bastón, Paulina and Victoria Swarovsky, Jay Rutland, Nick Ede, rugby players Max and Thom Evans, the television Bonang Matheba, Ore Oduba, the actor Christopher Biggins or Jay Rutland and the Arsenal player, Oliver Giroud.
Charity Auction with a Spanish touch
Following Global Gift Gala tradition, a charity auction consisting of experiences and luxury items, including a Rioja Gran Reserva Collection, made up of Great Old Vintages of the 20th century with: a Great Reserva Viña Pomal in 1978, a Gran Reserva Martínez Lacuesta in 1970, a Gran Reserva Viña Tondonia in 1973, a Gran Reserva Marqués de Riscal in 1951, a Campo Viejo Reserve in 1964 and a Gran Reserva Faustino.
The highest bid came with Gibert's Experience lot, valued at £35,000 and the shoes and purse designed and donated by Victoria Beckham (and worn by herself that night) for £ 20,000. The highest donations were for the purchase of a machine for the Global Gift House (£ 150,000) and for the construction of a special room at the Great Ormond Street Hospital (£ 100,000).
Another auctioned experience included a trip to Paris on a charter flight donated by Jet Smarter, including a double room for two nights at Four Seasons George V to attend The Global Gift Gala Paris with presidential VIP tickets, enjoying a five-course dinner prepared by a Michelin star chef.
Fashion lovers had the opportunity to bid on a custom design and tailor-made design courtesy of Gyunel Couture, sponsor of the gala, whose experience included advice and guidance from the Creative Director of the House during the process of design and creation of the bespoke piece.
The opportunity to visit the Giberg Swiss watch workshop was also auctioned, to learn the secrets of master craftsmen and Creative Directors, Vivian and Arlette Mueller, who will design bespoke piece for the winning bid. The Invisible Angel sculpture, from the Live Sculpture series, was another of the protagonists of the auction.
The Corinthia Hotel London once again hosted a magical gala. Every year, the evening is held with the help of great sponsors and collaborations  and this year was no different, with sponsors such as luxury brand GYUNEL Couture, founded in 2005 by the creative director Gyunel, based in London and known around the world for creating couture tailoring, which has grown to become the best choice for the most influential women in the world. Cocobay, headed by Mrs. Coco Tran, who once again sponsored the event, after her first philanthropic commitment last April at the 2nd edition of The Global Gift Gala, Madrid, held at the Teatro Real. Coco Tran, with its Cocobay project in the city of Da Nang and host of The Global Gift Gala in Vietnam in 2018.
Other sponsors were the Corinthia Hotel itself, BeringIce Vodka, or JetSmarter, who are proud partners of The Global Gift Gala, London 2017 "We are excited to participate in what will become a long-term partnership and look forward to future collaborations,". Other sponsors such as Maupy Worldwide, Playa Padre and East Of Eden, and collaborators; Usher me, Most Wanted, Room Rescue Me, Tempus, the Meliá Banus Hotel, Fullford Flowers, Cyberg, Smoking Gun, Soneva, Outtrigger Joan Collins Beauty and Sixteen10 without whom the event would not be possible.
The next charitable initiative of the Global Gift Foundation will take place on December 8th in Dubai, and will feature actress Sarah Jessica Parker and Vanessa Williams, both recipients of the Global Gift Philanthropist and Excellence Award for their philanthropic achievements. The host of the evening, Maria Bravo, will be accompanied by Honorary Chair, British singer Alesha Dixon and Huda Kattan, as well as other celebrities such as Luis Fonsi, who will put bring the musical touch in a Global Gift Gala that celebrates 5 years in the UAE and 4 years as the official charity gala of the Dubai International Film Festival (DIFF).
About Global Gift Foundation
Global Gift Foundation is a non-profit charity whose goal is to create positive changes in development, wellness, health care and social inclusion of the most vulnerable. The Foundation helps provide shelter, food, clothing, education, medical care and other vital needs to vulnerable groups, particularly children and women in need.
Created in 2013 by entrepreneur and philanthropist Maria Bravo, the foundation supports projects from different organizations around the world and has recently launched its own, Global Gift House, a multifunctional center for children with rare or chronic diseases that is located in the city Of Marbella and that will shelter at least 6 non-profit charitable organizations of the zone; Adisol (Association of Diabetics of the Costa del Sol), ADAHIMAR (Social Association of Attention Deficit Disorders and Hyperactivity), CADI (Center for Childhood Diversity Care), Association against Cystic Fibrosis, Bubble and Dreams Without diagnosis) and AMPEMNA (Association of Multiple Sclerosis Marbella / San Pedro / Estepona).
About The Eva Longoria Foundation
The Eva Longoria Foundation is empowering Latina women through education and entrepreneurship. Latino women have extraordinary potential, but they lack educational opportunities as well as lack of financial means. The Eva Longoria Foundation helps Latina girls finish their studies so they can go to college, and give women the opportunity to go ahead for themselves by providing them with entrepreneurial training and by giving them capital for their business.
About Ormond Street Hospital Children's Charity
Every day brings new challenges at Great Ormond Street Hospital (GOSH).
Every day, 260 new patients arrive, doctors battle the most complex illnesses, and the brightest minds come together to achieve pioneering medical breakthroughs.
This extraordinary hospital has always depended on charitable support to give the children at GOSH the best chance to fulfil their potential, and every day is a chance for you to make a difference.
A better future for seriously ill children starts here."
Asesores de Relaciones Públicas y Comunicación.
Patricia Martínez / Irina Moreno / Rubén Carromero
pmartinez@comunicacionrrpp.es
globalgift@comunicacionrrpp.es
Tel. 91 577 45 54 / 605 053 152 / 608 151 210