María Bravo and Eva Longoria Bastón celebrate the 2nd Global Gift Party in Ibiza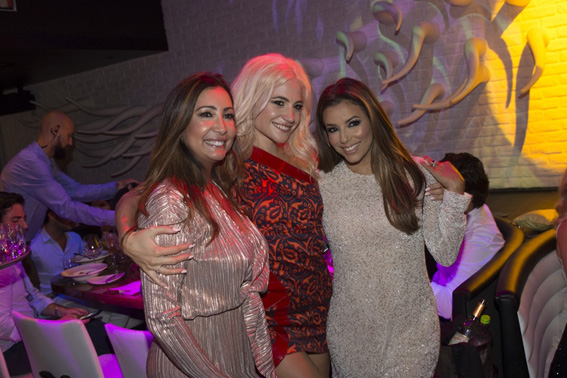 Ibiza, July 22nd, 2017. Friday, July 21st July, philanthropist and entrepreneur Maria Bravo and actress, director and activist Eva Longoria Bastón along with the rest of Global Gifters enjoyed a Global Gift Beach Party at the Hard Rock Hotel in anticipation of a unique evening. After nightfall, Bravo and Longoria Bastón went to STK where the hosts of the party were surrounded by friends from all over the world; Prison Break actor Amaury Nolasco who presented the 6th edition Global Gift Gala, Marbella, last July 16th; Philanthropist Jane Given, singer Alesha Dixon, international model Lucy Mecklenburgh, actor Craig McGinlay, British presenter and activist Nick Ede, as well as model Oliver Cheshire, DJ Fonsi Nieto, Brazilian soccer player Julio Baptista and singer Pixie Lott, who sang on the evening where funds were raised to benefit The Eva Longoria Foundation and Global Gift Foundation.
The Global Gift Party is part of a unique global initiative of the Global Gift platform to raise funds in support of fiscally responsible charities and projects.
STK Ibiza is a unique concept developed by the prestigious company The ONE Group, that artistically combines modernity and elegance in a dynamic environment with an incomparable gastronomic experience.
Eva Longoria Bastón said: "I love this place and even more so creating awareness and raising the much needed funds for our foundations."
Maria Bravo said: "I am happy and grateful to be able to celebrate this 2nd edition of The Global Gift Party at STK Ibiza, both sponsors and Global Gifters who accompany us every year all over the world."
In this 2nd edition of The Global Gift Party great sponsors like STK Ibiza, Hard Rock Hotel, Show Beauty, ISAWITFIRST.COM, Maupy Worldwide and Arquitec Luxury all supported the cause.
About The Fundación Eva Longoria
The Eva Longoria Foundation is empowering Latina women through education and entrepreneurship. Latino women have extraordinary potential, but they lack educational opportunities as well as lack of financial means. The Eva Longoria Foundation helps Latina girls finish their studies so they can go to college, and give women the opportunity to go ahead for themselves by providing them with entrepreneurial training and by giving them capital for their business.
About Global Gift Foundation
Global Gift Foundation is a non-profit charity whose goal is to create positive changes in development, wellness, health care and social inclusion of the most vulnerable. The Foundation helps provide shelter, food, clothing, education, medical care and other vital needs to vulnerable groups, particularly children and women in need.
Created in 2013 by entrepreneur and philanthropist Maria Bravo, the foundation supports projects from different organizations around the world and has recently launched its own, Global Gift House, a multifunctional center for children with rare or chronic diseases that is located in the city Of Marbella and that will shelter at least 6 non-profit charitable organizations of the zone; Adisol (Association of Diabetics of the Costa del Sol), ADAHIMAR (Social Association of Attention Deficit Disorders and Hyperactivity), CADI (Center for Childhood Diversity Care), Association against Cystic Fibrosis, Bubble and Dreams Without diagnosis) and AMPEMNA (Association of Multiple Sclerosis Marbella / San Pedro / Estepona).