Following the success in Madrid, Paris and Cannes, Maria Bravo returns home to celebrate the Global Gift Philanthropic weekend for the 5th consecutive year in a city of 5 stars.
Marbella; 22nd June, 2016. Today, Maria Bravo has announced the details of the Fifth Edition of the Philanthropic weekend that will be held on 16th and 17th of July in the city of Marbella. Maria has presented the activities that will take place during the weekend in order to fundraise for the following foundations: Mensajeros de la Paz, The Eva Longoria Foundation and the Global Gift Foundation.
On Saturday 16th of July, the philanthropic entourage returns to Olivia Valere to celebrate its Global Gift Party- La Soirée Edition, where all guests will enjoy a dinner prepared by the Babilonia restaurant fused with live performances of the best Spanish flamenco performed by El Carpeta, Janelle Fischer, Tony Méndez among others.
On the morning of the 17th, Global Gift Foundation will present Casa Global Gift to its main international donors who will be travelling to Marbella for the occasion. The donors will have the possibility first hand to meet the little ones who will be benefited from this centre as well as seeing the facilities that will be refurbished in the near future.
All local companies involved in the Casa Global Gift project will have the opportunity to make their donation in person to the ambassador and Honorary Chair of the Global Gift Gala- Eva Longoria. Together with Eva, Amaury Nolasco (Sucre de Prison Break) will also be present as well as a number of national and international celebrities who will also be attending this memorable day.
To bring the weekend to a close, the Global Gift Gala will take place at the Gran Meliá Don Pepe on the night of the 17th July. For this fifth edition, Ms Bravo will be accompanied by Amaury Nolasco and Belinda Washington as masters of ceremony. Pitingo, little Adrian Martin, India Martinez and Chenoa will leave their magic through their voices and music. The Gala guests will enjoy a Michelin dinner, prepared by Diego Gallegos (SOLLO); Oscar Velasco (SANTCELONI); Victor Carracedo (GRAN MELIA DON PEPE) y Jean Phillippe Darcis. During the evening, there will be a presentation of the Global Gift Awards, a live auction and the official presentation of the first edition of the new philanthropic magazine named "Global Gift Magazine".
During the last five years, the Global Gift Gala has put the city of Marbella in international spotlight bringing to the event international stars which have caused a media impact worldwide to millions of people as per Kantar Media and E-Prensa reports. If the city of Marbella would have to pay for such publicity, the figure will be more than 10.000.000 Euros.
During these five years, thanks to Global Gift Gala names such as Eva Longoria Baston, Terrence Howard, Amaury Nolasco, Shemar Moore, Taboo, Lara Fabian, Eva La Rue, Deepak Chopra, Pixie Lott, Olivier Chesire, Tallia Storm, Patsy Palmer, among others have come and talked about Marbella. At national level, people of influence such as Vicente del Bosque, Bertín Osborne, Isabel Gemio, Jordi Mollá and more than a hundred celebrities have enjoyed a night of philanthropy in the city of Marbella.
Maria stated: "We are proud to celebrate the Global Gift Gala every year in my city, and it is a great pleasure to receive the warmth of people, sponsors and collaborators as well as the affection of the media who make it possible for this event to be a success".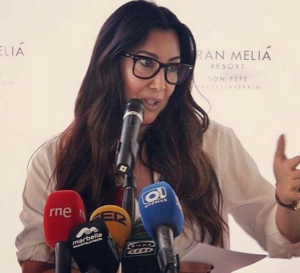 The gala has already confirmed the attendance of over 250 guests, therefore there is only a dozen tickets available for sale.
Tickets: 500€ for platinum tickets and 1000€ for VIP tickets. Please make your reservation by writing directly to the organization email:- rsvp@globalgiftfoundation.org. Morevorer, the platform offers solutions for companies offering alternative advertising in a solidarity pack format whose returns on advertising sponsorships reach the ratio of 8:1. The main true of success for any interested companies in joining the Global Gift as sponsor or collaborator you can see it in fromt of you; the participation of brands like Meliá Hotels, Audi, Iberia, Rosa Clara that year after year come back to us to show their more solidarity side.
Beneficiaries:
All money raised during the evening will go to three causes: 1. Casa Global Gift: It is the first major project of the Global Gift Foundation, a multifunctional centre for children with rare or chronic diseases. The centre is formed by five local associations from Marbella.
Casa Global Gift is a project supported by the Town Hall and as a symbol of the city. As the beginning of the first phase of reconstruction of this space donated, Maria Bravo has revealed that the Godmather of the first Casa Global Gift, will be the actress Eva Longoria who will be at the Casa Global Gift for the official presentation on 17th July together with the members of the 5 local associations and other surprises that will come as international support for the cause.
Mensajeros de la Paz: Padre Angel, after being awarded in Marbella in 2015, his foundation Mensajeros de la Paz, will be benefitted during the night. This foundation has helped more than 51,150 children; 11,700 elderly people attended in retirement homes and centres. 8,725.000 calls have been addressed through the Dorado Phone to alleviate their loneliness.
The Eva Longoria Foundation: will be the third beneficiary foundation, which helps Latinas to form a better future for themselves and their families through education and entrepreneurship.
END
About the Global Gift Foundation:
The Global Gift Foundation is a philanthropic non profit organization that aims to create a positive impacto on the lives of children, women and families who are in need. This foundation was created by María Bravo and Alina Peralta in 2013, which are personally undertaken the donations raised by the foundation are entirely devoted to associations, foundations and NGOs fiscally responsable. The support of Global Gifters, global ambassadors and benefited foundations could achieve a great impact on social transformation.
About the Eva Longoria Foundation:
Research shows that when parents are involved in the education of their children, who are more likely to finish high shcool and college. The Foundation offers a nine week course to help parents to understand the requirements of the clas, how and why to set up meetings with teachers and counselors, helping with homework and how and when to submit applications for college and financial aid forms. The Foundation works with the Parents Institute for Quality Education (PIQE) to train more than 2,220 low-income parents in the predominantly Latino areas. When parents graduate from this course, children have a graduation rate of 90% from high school compared to 62% overall in Los Angeles. In autumn 2015, the Foundation began an expansion of its parent involvement program to Mexico city, where 187 parents of their inaugural class graduated and has continued to expand additional schools.
Acera Mensajeros de la Paz:
In the beginning, the Mensajeros de la Paz Foundation created group homes to Foster children and youth deprived of their family environment or have been abandoned by providing the closest thing to a family environment in which they develop their life in an effective manner in order to guarantee their presence in the society without discrimination and marginalization. Over the years, it has expanded its activities to other vulnerable social sectors: women victims of domestic violence, phisically and mentally disbabled adn the elderly who live in loneliness, abandonment or destitution.
As per the social and demographic reality of Spain and other countries, it will reveal the social needs of the elderly such as loneliness, abandonment, social exclusion and lack of resources due to the increase of the population age. This is when Mensajeros de la Paz creates the Asociación Edad Dorada looking for an adequate response to this group. Thanks to this Association, numerous nursing homes and Days Centers in Spain and other countries are attended. Also, they carried out numerous projects aimed to improve the quality of life of our elders and their full social integration.
Mensajeros de la Paz is legally established in many countries and works directly or in partnership with local organizations, various social programs, development cooperation, social assitance or humanitarian aid developed in 50 countries:- Afghanistan, Angola, Algeria, Argentina, Bélgium, Benin, Bolivia, Brazil, Chile, Colombia, Ivory Coast, Cuba, Ecuador, El Salvador, United States, Ethiopia, Guatemala, Guinea Equatorial, Haiti, Holland, Honduras, Iran, Iraq, Italy, Jordan, Kenya, Kosovo, Lebanon, Mali, Morocco, Mexico, Mozambique, Niger, Panama, Pakistan, Paraguay, Peru, Dominican Republic, Republic of Congo, Western Sahara O, Senegal, Sri Lanka, South Africa, Tanzania, Palestinian Territories, Uganda, Uruguay, Venezuela, Yemen, and Zimbawe Lebanon, Mali , Mexico, Morocco, Mozambique , Niger, Panama , Pakistan, Paraguay , Peru , Dominican Republic, Republic of Congo , Western Sahara , Senegal , Sri Lanka , South Africa , Tanzania , Palestinian Territories , Uganda , Uruguay , Venezuela , Yemen, and Zimbabwe.
Descargar en PDF