CANNES, MAY 11TH, 2018. Following the success of the latest initiatives in London and Paris, Maria Bravo returned to Cannes to celebrate her most exclusive gala, The Global Gift Initiative for the seventh consecutive year.
Following the first Global Gift Nelson Mandela Centenary Dinner on the April 24th which saw Spanish actress, philanthropist & Global Gift Foundation founder, join forces with the Nelson Mandela Foundation, for an initiative in which both foundations pay tribute to the South African Philanthropist and Politician–, celebrating the beginning of a strong alliance through which they will jointly work to improve Human Rights conditions, such as freedom, equality and social justice.
The 2nd charity event took place on April 25th, at the emblematic Four Seasons Hotel George V, where Paris shone through the 8th edition of The Global Gift Gala in the French capital. Personalities of all areas enjoyed a magical evening where Emma Bunton's philanthropic work was recognized with the Global Gift Philanthropist Award.
Maria Bravo, who was accompanied on both initiatives by actress and singer Vanessa Willians, thanked her for her amazing charitable work and in particular her commitment to the Global Gift Foundation: "She is a shining example of a true philanthropist and we are so grateful for her generosity and sublime talent."
The Cannes Global Gift Initiative 7th edition took place on May 10th within the iconic setting of the Cannes Film Festival, at the Intercontinental Carlton Beach Club. Personalities from all areas such as Tonya Kinzinger, Fabienne Carat, Jimmy Jean-Louis, Daniel Levi, Mia Frye, Alicia Fall, Nawell Debbouze, or the winning actress of a Golden Globe, Regina Taylor, among many others that did not want to miss this annual and international event created by the Spanish Maria Bravo.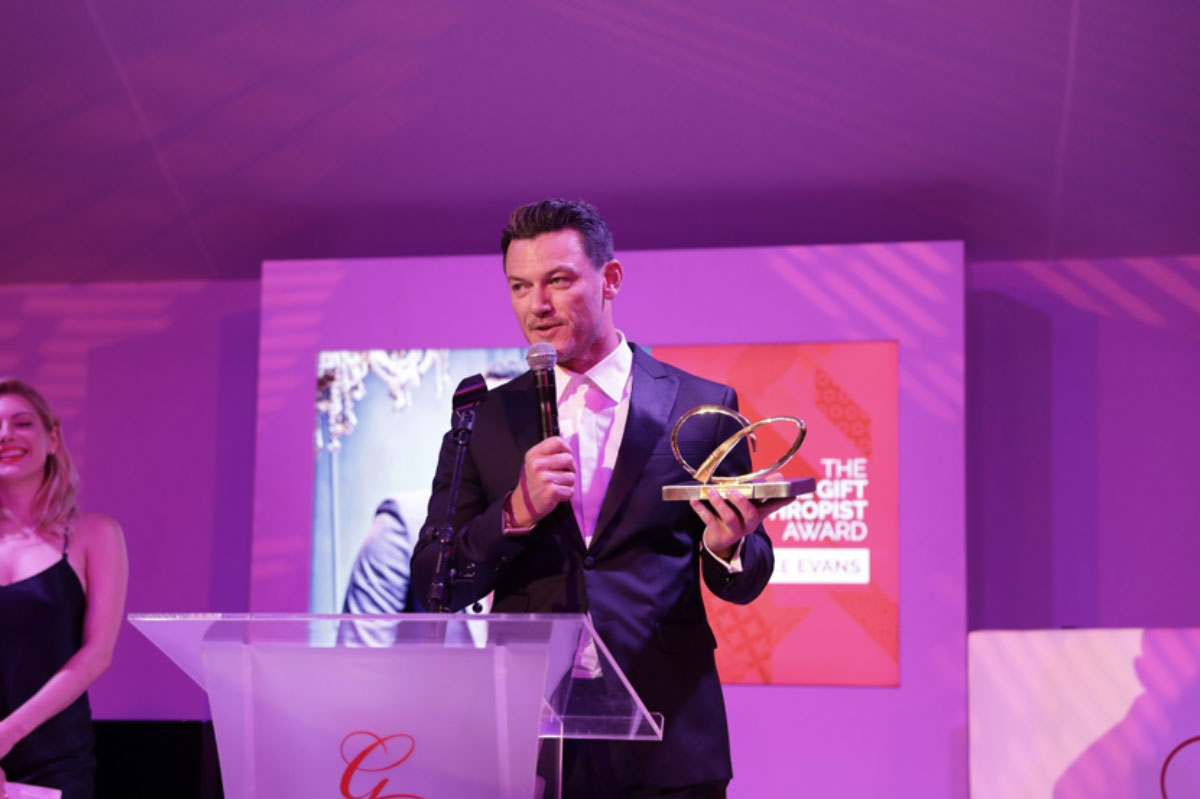 This year, the Global Gift Foundation Initiative featured an exceptional guest, Hollywood actor Luke Evans, and Global Gift Foundation had the honour to recognize his philanthropic work with the Global Gift Philanthropist Award.
Maria Bravo said "I am so proud to be celebrating the work that Luke Evans has done to help highlight the plight of those less fortunate. Luke has supported the Global Gift Gala in London and we felt he was the perfect person to award at this year's Gala. The evening will be a truly special night and we cannot wait to make a difference".
Luke Evans said: "It's an honour to accept this award from the Global Gift Foundation and I'm hugely excited to share this evening with many other inspirational people doing incredible work. I hope we can raise lots of money to contribute further to those that need it most."
Luke has worked with different NGO's including Prince Trust and spearheading the successful
#Raiseyourhand campaign with Bvlgari & Save the Children to provide education programs via mobile learning centers in impoverished areas, often pushing the children to further their education creating a tangible difference to their lives to over 155,000 children. Luke traveled to the slums in Mumbai and while the extreme levels of poverty shocked him, seeing the children learning to read and write was invaluable.
Another protagonist of the night was the Canadian actress Katheryn Winnick, best known for her role in the series "Vikings", who wanted to support the work of her friend Maria Bravo.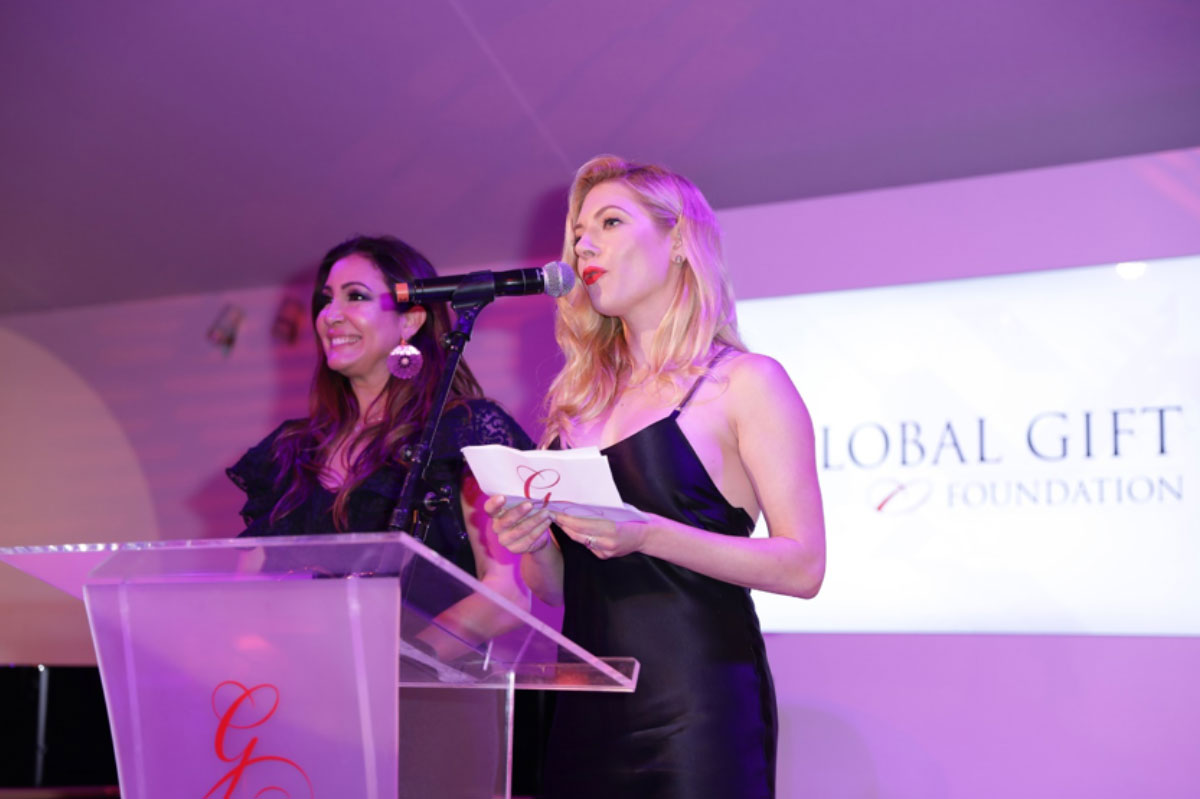 The Global Gift Initiative was specially supported by Tonya Kinzinger who presented the gala. A special guest performance by Julian Perretta whose hit single 'Miracle' was number 1 in 13 countries and is currently enjoying chart success with his new single "On The Line", an amazing flamenco show by the Global Gifter Sabrina Romero, and the performance of the talented pianist, Omar Harfouch.
On this occasion Bravo was surrounded by various sponsors, JETSMARTER, and GAURA, Official Sponsor of Global Gift: "We are truly grateful to support the Global Gift Foundation. We feel a great respect for the complete dedication and the tireless efforts that are made to improve the quality of life of children, women and the disabled, for which we are pleased to be part of this wonderful action and contribute to spreading a current of care in our society, and showing love towards those who need it most", said the brand's
CEO, Masami Arii.
GAURA is a company specializing in hydrogen water dispensers for both business and domestic use, beauty products and other hydrogen related products. As there are numerous studies that show that hydrogen has positive effects for the treatment of eczema, diabetes and other diseases,the company is developing products that promote anti-aging and a healthy lifestyle. GAURA is firmly committed to improving the quality of life of the most disadvantaged through the donation of a part of their profits. A business philosophy that they hope to share with other
entities to help make this world a better place.
About Global Gift Foundation
The Global Gift Foundation is a non-profit charity whose goal is to create positive changes in development, wellness, health care and social inclusion of the most vulnerable. TheFoundation helps provide shelter, food, clothing, education, medical care and other vital needs to vulnerable groups, particularly children and women in need.
Created in 2013 by entrepreneur and philanthropist Maria Bravo, the foundation supports projects from different organizations around the world and has recently launched its own, Global Gift House, a multifunctional centre for children with rare or chronic diseases that is located in the city of Marbella and that will shelter at least 5 non-profit charitable organizations of the zone; Adisol (Association of Diabetics of the Costa del Sol), ADAHIMAR (Social Association of Attention Deficit Disorders and Hyperactivity), CADI (Center for Childhood Diversity Care), Association against Cystic Fibrosis and Bubble and Dreams (Without a diagnosis).