Global Gift recognizes the Philanthropic Work of Luis Fonsi and Adrian Martín Vega
For the 7thconsecutive year, the founder and creator of Global Gift Foundation, María Bravo, hosted 290 national and international supporters, philanthropists and celebrities united by solidarity
The Special Participation of Niña Pastori handing over "The Global Gift Inspiration Award" to young Adrián Martín was one of the most emotional moments during the evening.
Luis Fonsi, international artist of the moment received the "The Global Gift Philanthropist Award" with which the Foundation recognizes his solidarity and commitment to disadvantaged children. The Spanish singer, Adrian Martin Vega received "The Global Gift Inspiration Award"for his struggle and desire to overcome being a source of inspiration and admiration for adults and children.
The actress Lorena Bernal along with host and activist, Enjy Kirwan, were Masters of Ceremony announcing performances by Gary Dourdan, James Arthur, Niña Pastori, Descemer Bueno and Dama
4 International Renowned Michelin Star chefs donated their creativity producing the Gala Menu: Víctor Carracedo, Paolo Casagrande, Mauricio Giovani and José Carlos Fuentes
The traditional gala, as part of the VII Global Gift Philanthropic Weekend, raised funds for the Casa Global Gift project in Marbella
Among the Global Gifters and international philanthropic community were Chenoa, Andrea Mclean, Lisa Scott Lee, Beatriz de Orleans, Montse Hidalgo, Carla Barber, Rafael Amargo, Pilar Garcia de la Granja, Rosa Lopez, or Manolo Santana, accompanied by Claudia Rodríguez, among many others.
Marbella, July 30, 2018. The Global Gift Foundation celebrated the VII The Global Gift Gala Marbella last night at the Gran Meliá Don Pepe hotel, consecrating seven years of the most important philanthropic event on the Costa de Sol. On this occasion, the founder and president of the Global Gift Foundation, María Bravo, welcomed celebrities, Global Gifters and activists with a common goal – to improve the lives of children, women and families in precarious situations.
"For seven years I have been fulfilling my dream of returning to my city and receiving good people committed to solidarity. This gala gives our team the strength to continue working with the objective that shortly, we can see the Casa Global Gift as a reality here in Marbella, "said the alma mater of the project.
After several years working on various projects with children in Vietnam and Puerto Rico, Luis Fonsi and María Bravo joined forces to continue pushing out the message of how important the collaboration of many is to make an impact around the world.
The singer, who attended the Gala with his wife Águeda López, received a "Global Gift Philanthropist Award" on behalf of Global Gift Foundation and Maria Bravo for his tireless humanitarian work to help children with cancer and in the reconstruction of his native Puerto Rico following Hurricane Maria. "This award is for each person who has given 1 minute to help. It is an honour to be part of this Global Gift Foundation Gala. I feel committed as a musician, since we are messengers of love and hope and I have the need to help and give back a little love and health to so many children who need it. Since I met Maria and the great team of her foundation, along with Eva, I wanted to join forces and work together giving strength to its cause", said Fonsi.
One of the most emotional momentswas when Bravo and Chenoa called Niña Pastori to the stage and together with Luis Fonsi gave the young singer from Malaga "Adrián Martín Vega, the "Global Gift Inspiration Award ". This award recognizes the inspiration and example of the young Adrián, who was very moved, as was Niña Pastori, Bravo, Chenoa and Pitingo, who made a specially dedicated video for Adrian.
Little Adrián sang for the first time at The Global Gift Gala, in Madrid 2016, and repeated in Marbella 2016. The last time he contributed his voice and light to the foundation was at The Global Gift Gala Madrid 2017. "On this occasion he will not perform, but he has come as an award winner because we wanted to recognize his talent and his positive and contagious energy, which is a real inspiration for everyone."said Bravo.
The Global Gift Award recognize the social commitment of personalities and entities that represent the most disadvantaged groups, and in past editions have been given to the personalities such as David Beckham, Deepak Chopra, Maria Carey, Ricky Martin, Samantha Vallejo-Nájera or Vicente del Bosque and the NGO Aprendices Visuales.
As usual the gala was compered by two exceptional presenters. This year, two active and committed women, actress Lorena Bernal, said "I am very happy to return to present this magical Gala and one of the most important in our country," and the TV presenter of Egyptian origin Enjy Kiwan, who said "it's very important for me to share the stage with Lorena and tell you about the work of this great team. This encourages me to continue working on my YouTube channel with the hope of inspiring, motivating and raising awareness for different causes around the world."
Music always connects and reinforces the need to continue working for the most needy. With this objective, singer and actor Gary Dourdan, protagonist of the CSI series, took to the stage, as well as singer and composer Descemer Bueno accompanied by the voice of Dama. Descemer is an unconditional supporter of Global Gift and is author of the hits 'Bailando' and 'Subeme la radio' by Enrique Iglesias. James Arthur performed his smash hits "Impossible" and "Say You Won´t Let Go" with a subliminal show that left no one in doubt of his stunning vocal ability, and Flamenco legend, Niña Pastori whose light and energy left everyone breathless.
Among those who attended the event were: Montse Hidalgo, Beatriz de Orleans, Montse Hidalgo, Andrea Mclean, Lisa Scott Lee, Rosa López o Carla Barber, Pilar García de la Granja, Nuria Fergó, Rafael Amargo and Manolo Santana, accompanied by Claudia Rodríguez.
Star studded menu
Following the welcome cocktail with delicious aperitifs and cocktails provided by Luxury Spain, KingPeter Rives and Macallan, the evening began with the Gala Menu created by 4 great chefs: the executive chef of the Gran Meliá Don Pepe, Victor Carracedo who every year opens the doors of his kitchen to guest renowned and "Michelin star" chefs such as Paolo Casagrande, from Lasarte restaurant, Argentinian Mauricio Giovanini from Messina Restaurant and José Carlos Fuentes from Club Allard.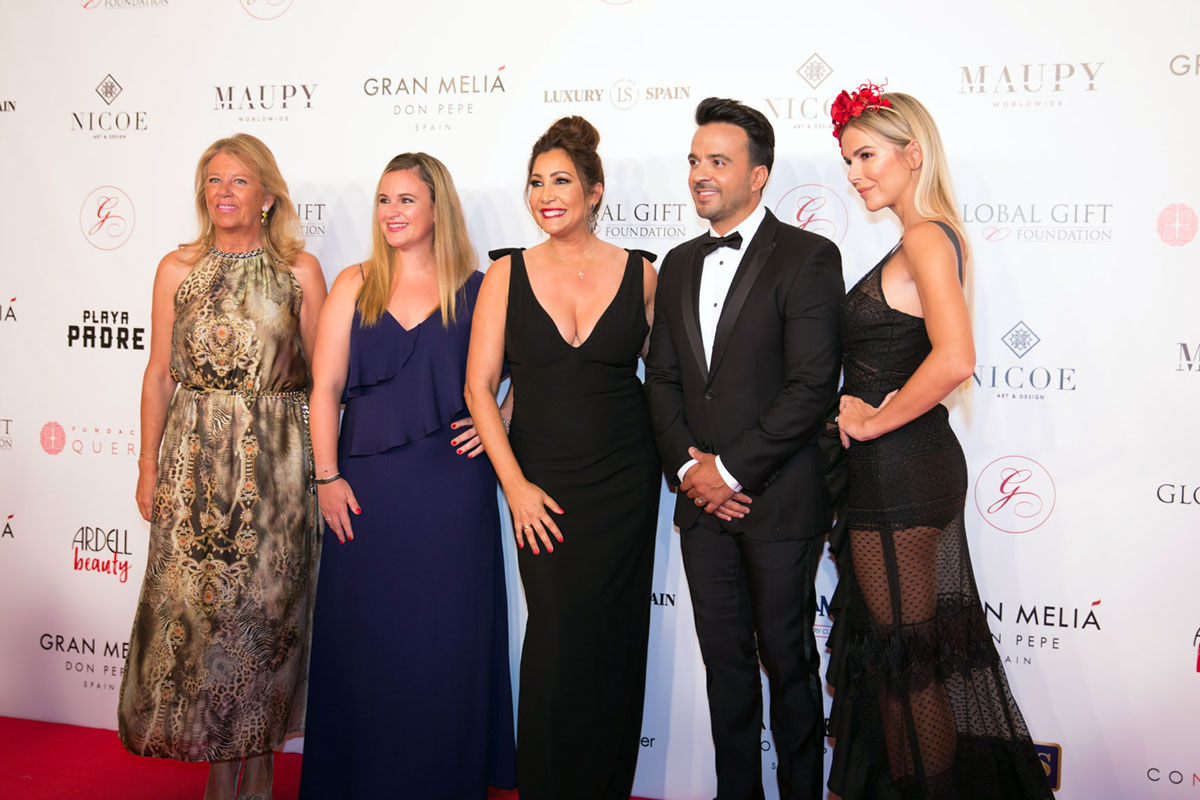 Carracedo stressed that "I am proud to accompany the Foundation for seven years and give our know-how in this renowned philanthropic event". Fuentes, chef of the year-2010 and teacher at El Club Allard, opted for a Palamós prawn starter with Casagrande who came from Barcelona, ​​who wanted to surprise with Wagyu meat in a groundbreaking format. The sweet closing dish was a reinterpretation of the typical borrachito of Malaga by Marbella´s own, Giovanni.
Always faithful to the summer event, the Gran Meliá Don Pepe Resort consolidates itself as the setting for The Global Gift Gala Marbella. Its director, Rocío Galán quoted, "We have seen at close hand the exceptional work undertaken by María Bravo and her team. For that reason, we continue to support her and contribute to the work and improvement of our city".
Philanthropic Weekend
The previous night, founder and hostess Maria Bravo, welcomed personalities and sponsors of the weekend at The Global Gift Party, which took place at the Beach Club Playa Padre and featured the performance of Rafael Amargo, DJ Adassiya and DJ Ángel Sánchez (Be Polite). Bravo received Global Gift Ambassadors Chenoa, Gary Dourdan, Andrea Mclean and personalities such as Montse Hidalgo, Manolo Santana, among others.
On Sunday Morning, several of the celebrities like Luis Fonsi, Chenoa or Gary Dourdan as well as collaborators and Global Gifters accompanied Maria Bravo and her team to the Casa Global Gift to see the progress of the work and to thank new donors for their contribution enabling the completion of the center. Of course, the children and families of the 5 Associations did not want to miss this moment. Mayor of Marbella, María Ángeles Muñoz also attended. The Global Gift Foundation will fully allocate the funds received during the gala to launch this multifunctional center that will offer specialized help and material adapted for children suffering from rare diseases and that will also support their family environment.
The VII Philanthropic Weekend, has had the valuable support of collaborators and sponsors such as Gran Meliá Don Pepe, Meliá Marbella Banus, Alvarez-Ossorio & Castro, All American International Industries, Kiko Milano, Skeyndor, Luxury Spain, Kiros Paris, Nico E Design, Maupy Worldwide, Barber Clinics, Santa Maria Golf & Country Club, VIP Concierge Services, Ardel Beauty, Clubman, Padre Beach, Marbella Luxury Cars, King Peter Vodka & Rives, Pablowski, Habla Wineries, Popi Hams and Virginia Florist.
About The Global Gift Gala
The Global Gift Gala is the main event of the Global Gift Foundation created and chaired by Maria Bravo, and one of the most important charity celebrations in the world, which dedicates the result of its work to helping fiscally responsible organizations whose values coincide with those of Global Gift Foundation. The Global Gift Gala is the charity black tie dinner, which is a dream evening that begins with the red carpet and welcome cocktail, 3-course dinner by Michelin Chefs, live auction with unique experiences of what "money cannot buy", the presence of national personalities and international as well as the live performance of the most admired artists. With these ingredients, María Bravo ensures for The Global Gift Gala an unprecedented call for media, giving visibility to the needs of the NGOs to which the Global Gift Foundation helps.
About Global Gift Foundation
The Global Gift is a non-profit charity whose objective is to create positive changes in the development, welfare, health care and social inclusion of the most vulnerable. The Foundation helps provide shelter, food, clothing, education, medical care and other vital needs to vulnerable groups, particularly children and women in need. Created in 2013 by businesswoman and philanthropist Maria Bravo, the foundation supports projects of different organizations around the world and has recently launched her own project named Casa Global Gift, a multifunctional center for children with rare or chronic diseases that is located in the city of Marbella and that will provide shelter to at least 5 charitable non-profit organizations  such as : Adisol(Association of Diabetics of the Costa del Sol), ADAHIMAR (Association of Disorders for Attention Deficit and Hyperactivity Disorder), CADI(Center for Attention to Childhood Diversity), Association against Cystic Fibrosis and Bubble and Dreams (Rare Diseases and without diagnosis).