Dubai, December 14, 2018. María Bravo, founder and president of the Global Gift Foundation, celebrated the sixth consecutive Global Gift Gala Dubai bringing together the most committed philanthropic community at the Grosvenor House Hotel, a Luxurious Hotel Collection.
Actress and Honorary Chair of the Global Gift Foundation, Eva Longoria Bastón did not want to miss out to support her great friend María Bravo. Supporters from Spain such as actor and TV presenter Carlos Sobera, attended with his wife, Patricia Santamarina.
Master of ceremonies – Dubai based presenters Tom Urquhart and Enjy Kiwan, who already hosted this years Marbella gala with Lorena Bernal.
Gary Dourdan, Ambassador of the Global Gift Foundation, who this year has supported events performing his acoustic set in Paris, Marbella, London and Dubai, as well as the popular band About Last Night.
Among the long list of celebrities who accompanied Maria and Eva during the gala, was Shabana Azmi – legendary Indian actress and activist and Shilpa Shetty who staged a very emotional moment and confirmed her commitment to expand the visibility of our projects in the Middle East. She claimed "I have never cried so much as in this charity gala and this makes me realize all that remains to be done. I just want to say to Maria, one word for you and your work. Bravo!".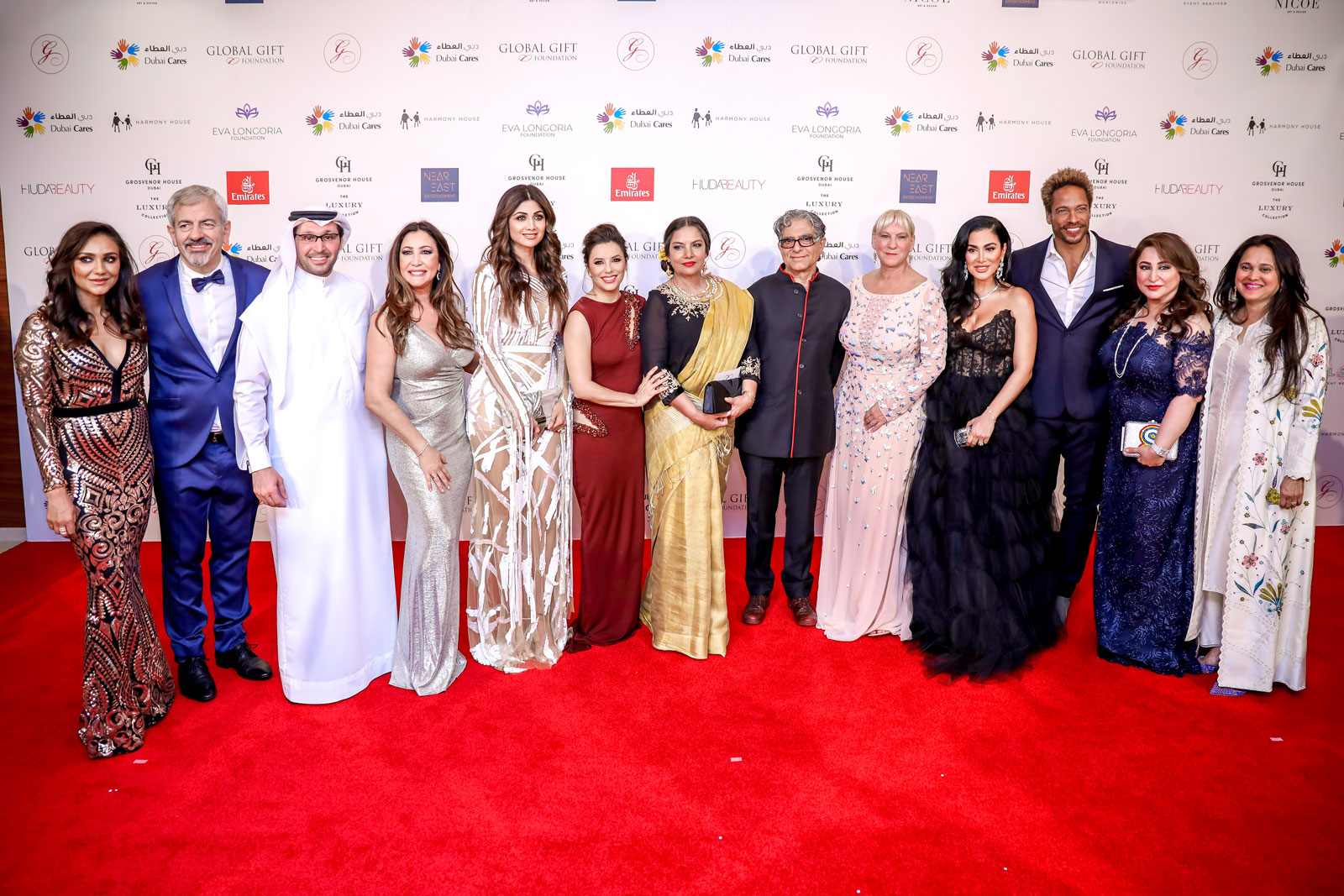 Six Philanthropic Awards
During the evening six Global Gift Awards were awarded, recognizing the humanitarian work of renowned philanthropic personalities. In this sixth edition of The Global Gift Gala Dubai the recipients were:
The "Global Gift Life Time Achievement" collected by Sunny Varkey, creator of the Varkey Foundation who strive to provide quality education to all children, reinforcing and improving means for teachers around the world. "I am very grateful to have received the Award and I do not want to forget about all of the people in the GEMS Education network who have worked tirelessly to achieve the important change in the lives of so many young people."
This year, another of the awards of the night, the "Global Gift Young Philanthropist" was for the young student of Dubai College, Mahira Jethwani, designer of the refrigeration vest, winner of the prize for innovation which improves the quality of life of the Dubai workers during the hot summer months.
The "Global Gift Women Empowerment" award went to the beauty guru Huda Kattan, for the innovative creation of her cosmetic line Huda Beauty, whose products are the most requested by all the celebrities in the world. She thanked the confidence placed in her: "I met Eva when I was starting and she introduced me to María and her precious project, which helps change lives every day. Thank you very much for believing in me."
British world renowned artist, Sacha Jafri, has made numerous contributions to raise funds and awareness of different charities and foundations culminating in him receiving the "Global Gift Humanitarian" award; "Thanks to all of the Global Gifter community for supporting one of the best causes on the planet. I am very grateful for this award that I receive from two people I love and respect, Eva and María."
On this occasion, the "Global Gift Philanthropreneur" Award honored the philanthropic work of award-winning and successful hotel GM, Pam Wilby, who supports countless charity events. Her work philosophy is characterized by forming a great family with her work team transmiting the values ​​of equality and effort. "It is an honor to be part of this project. Grosvenor has supported Global Gift for the last 3 years and we are very grateful to Eva and Maria for your dedication and your passion, because you really love what you do and do what you love" she said.
Another of the awards was given to the businessman Vikram Shroff who received the "Global Gift Humanitarian Award" who, thanks to his position as director of one of the most important agrochemical companies in the world, has contributed to more than 5,600 students receiving new methods of education in India's poorest areas.
Beneficiaries in Dubai
The funds raised will go towards the projects of local Foundations, Dubai Cares and Harmony House India, as well as the Eva Longoria Foundation and the Global Gift Foundation.
Dubai Cares will be able to continue working to give access to quality education to children all over the world thanks to the creation and implementation of different educational programs. Harmony House in India, will be able to continue transforming two villas into full-time community centers for women and children living in slums, where education, food, medicines and social services are offered.
The Eva Longoria Foundation is increasing the number of women receiving help to fulfil their personal potential through education and business training programs.
Global Gift Foundation will support two young people that need urgent help. Part of the funds will allow Sarah Almagro, a young girl from Marbella who recently lost her hands and feet due to a very serious infection that she suffered last July, to have bionic prothesis which cost more than 200,000 euros. Global Gift Foundation will also support Olga Sharipova, the little girl who suffers from a congenital tumor on the right side of her face. GGF already funded her fourth operation in 2014 and will now contribute to the fifth operation she needs.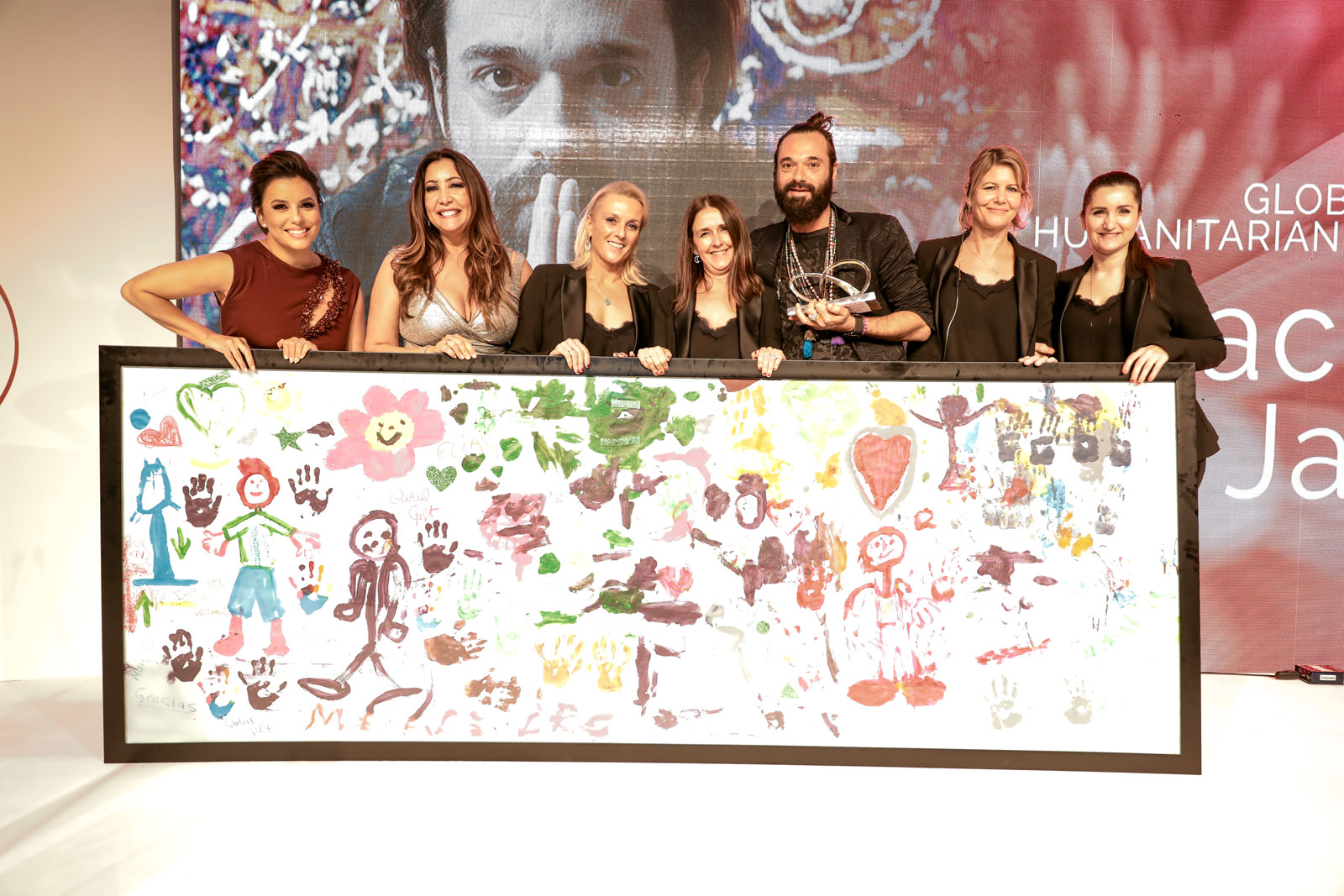 Live art & experiences auction
During every Global Gift Gala a high octane live auction takes place featuring different experiences and collector's items, where the main feature was the painting of the artist Sacha Jafri. Jafri donated the painting he created with the children during his visit to Harmony House school in India. Many of the Global Gifters, including María Bravo and Eva Longoria left their hand prints on the painting that was later auctioned. Another piece of art was auctioned, a lithograph by world famous French artist Marc Chagall.
Jewels also played an important role in the auction,  guests had the opportunity to bid for different exclusive. Among the sports experiences that were auctioned, auctioneer Jonny Gould, highlighted the opportunity to attend a football match of one of the best football clubs in Europe.
María Bravo achieved that the Dubai gala brought together the most supportive international community and to make this possible, had the great support of sponsors such as Emirates, Near East Entertaiment, a marketing group specialized in the film and entertainment industry. Huda Beauty, the well-known cosmetics line created by one of the award recipients of the night, Huda Kattan.
Other sponsors include Flair Event Services, Nicoe Art & Design, and of course, the Grosvenor House Hotel, a Luxury Collection Hotel where the gala was held. Among the collaborators were: Ribek Productions, Gaura, Velaa Private Islands Maldives, Galle Face Hotel, Dermaspa, Roseate hotels and resorts, Soultrap studio, Hykud Photography, Laguna Girl, Sixteen10, Dhamani, Le Massif, Tvt by Taha, Icons, Messika, Buddha Bar, Vieve Living, Insignia, Louis XIII, Roberto Coin, UPL, Arkham creative, Studio Mao, HELLO! Middle East, LUX resorts. Rüya Dubai.
The day after the philanthropic celebration The Global Gift Gala Dubai, Maria Bravo flew to India to visit the school of Harmony House India with its founders Lucy Sinha and Gaurav accompanied by Carlos Sobera and his wife Patricia Santamarina as well as Sacha Jafri bringing visibility and awareness to this beautiful project.